TOP 10 SEXY ACTORS IN THE WORLD
1.
Johnny Depp
American actor Johnny Depp, born in 1963, became over the years a teen idol and sex symbol. Charismatic, Depp has received worldwide recognition for his work and has been elected by several websites as best actor, most stylish actor, sexiest actor, most handsome actor, personality of the year and actor-who-is-nicest-and-kindest-to-his-fans.
2.
George Clooney
Born in 1961, George Clooney is considered to be one of the most handsome actors in Hollywood. He reached great success with his performance on the TV show "ER", which he left in 1999 to pursue a film career. His work as an actor and director has rendered him nominations to the most important awards in cinema.
3.
Orlando Bloom
Born in 1977, English actor Orlando Bloom became known worldwide for his roles in the trilogies "The Lord of the Rings" and "Pirates of the Caribbean". Considered to be one of the most attractive men in the world, this dark man with brown eyes is admired wherever he goes and drops jaws everywhere.
4.
Brad Pitt
Brad Pitt is, without a question, one of Hollywood's most wanted. Born in 1963 in the United States, he is considered to be one of the sexiest men on the planet. His performances in movies such as "Twelve Monkeys" (1995) and "Interview with the Vampire" (1994) got him recognition and important awards.
5.
Jude Law
Considered to be one of the most charming men in Hollywood, English actor Jude Law, born in 1972, became known worldwide for his performances in "The Talented Mr. Ripley" (1999) and "Cold Mountain" (2003), which got him important movie awards and nominations. He was on the Top Ten List from the 2006 "A-List", a list of the most bankable movie stars in Hollywood.
6.
Hugh Jackman
Born in Australia in 1968, Hugh Jackman reached the height of his career when he played the character Wolverine in the "X-Men" trilogy. From then on, Jackman drew the world's attention, not only with his talent as an actor, but also for physical features envied by many.
7.
Viggo Mortensen
Considered to be one of the most attractive men in Hollywood, American actor Viggo Mortensen, born in 1958, became very well-known because of his roles in movies such as "The Lord of the Rings", "28 Days" (2000) and "Eastern Promises" (2007). The last one got him a nomination for the 2008 Oscar as Best Actor.
8.
Christian Bale
English actor Christian Bale, born in 1974, drew Hollywood's attention with his performance in the 1987 movie "Empire of the Sun", from director Steven Spielberg, when he was 13 years old. His charm and exemplary physical constitution have rendered him important roles such as Batman in the movies "Batman Begins" (2005) and "The Dark Knight" (2008).
9.
Leonardo DiCaprio
American actor Leonardo DiCaprio, born in 1974, became known worldwide in the role of Jack Dawson in one of the most award-winning movies ever: "Titanic" (1997). Winner of several awards for his countless performances, DiCaprio charms everyone with his beautiful blue eyes
.
10.
Jake Gyllenhaal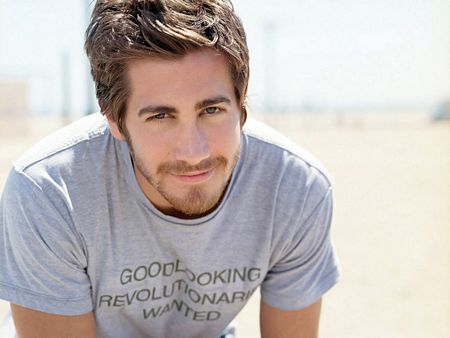 The son of director Stephen Gyllenhaal and screenwriter Naomi Foner, American actor Jake Gyllenhaal, born in 1980, started acting when he was ten years old. Considered to be one of the most attractive men in cinema, Gyllenhaal got international recognition with his work in movies such as "The Day After Tomorrow" (2004) and "Brokeback Mountain" (2005).